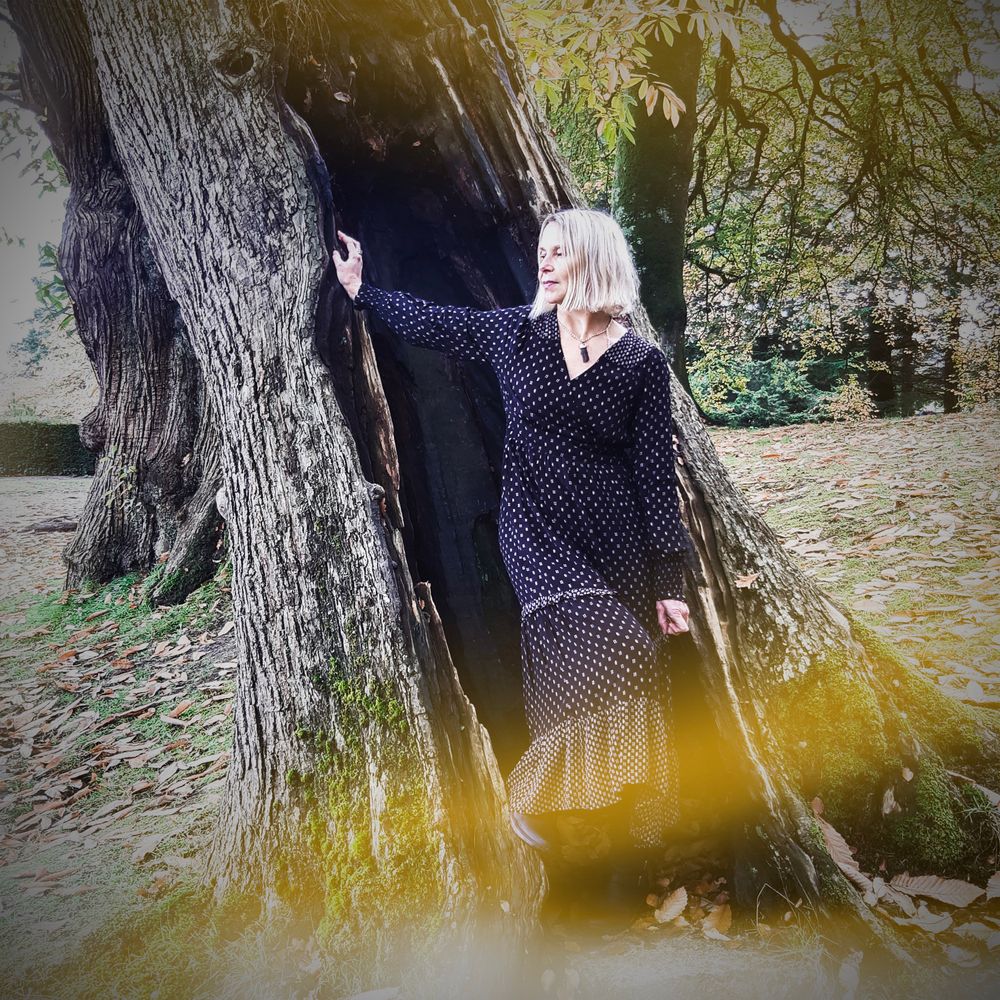 Pantaleimon
Andria Degens (dee-jens) is a musician, singer-songwriter, multi-instrumentalist, composer, performer. Under the pseudonym Pantaleimon, she has independently created and released a beguiling body of work on her own label Grass Girl Music, and on other independent labels. For over a decade, Pantaleimon's sound has carried the listener through layered and repeated motifs merging to produce a glistening, almost devotional air. 2023 brings new music from Pantaleimon. 
As a self-taught musician, she has not been constrained by received assumptions about particular musical pairings or forms. Rather, she has experimented and intuited her way towards instruments and treatments that allow her to best represent her sonic ideas. Her use of guitar effects pedals in conjunction with Appalachian Dulcimer is a case in point. Taking a quintessential folk instrument and processing it heavily to achieve a new repertoire of sounds is atypical, highly creative and a hallmark of her music.
As an independent female artist without the backing of a label, Andria has always succeeded in getting her work recorded, published, promoted, distributed and performed. She is a collaborative force who regularly seeks and is sought out by international artists working as filmmakers, painters, writers and musicians. 
After a period of prolonged dormancy, a new Pantaleimon single was released on 6 Jan 2023, 'The Conversation' - a meditative instrumental work  composed entirely on Appalachian dulcimer, recorded and mixed by Andria at her new home studio in Devon, with an accompanying video which highlights the beauty and fragility of nature in the face of climate change. Andria says "The Conversation came to me during the pandemic and after a chain of personal challenges over quite a few years, which prevented me from releasing new music, until now". 
It was the beginning of a return back into the spotlight. On the 24th March 2023 a second single from the new EP, due in Spring will be released.
The new single 'To The In Between' features French born electronic sound artist Olivia Louvel. The accompanying video is inspired by visions of the digital web we are all caught up in, and yet we yearn to be free in Nature's fractal vitality. 
More sounds and visions to come...
________
Pantaleimon's first album, Trees Hold Time, from the opening tone of Bowing and Parting, to the pure sound of the Appalachian dulcimer on Insignificant Dance, reveals how Pantaleimon's sound rises, as if from an ever-present dawn. This debut was recorded and mixed by Christoph Heeman at his studio in Aachen, Germany.
The follow-up EP, Cloudburst (recorded at the Diving Bell Lounge in Glasgow) presented four atmospheric tracks, spanning a single day and culminating in the drone-steeped haunting invocations of Numinosum, a track referencing involuntary mystical experiences. 
Mercy Oceans is the second studio album from Pantaleimon, arriving in 2007, featuring Isobel Campbell, Baby Dee, Keith Wood (Hush Arbors) and John Contreras. Trees Hold Time was mainly instrumental, while the second sees Andria delivering honest shimmering vocals that explore joy and a reverence for life and nature. A wave of collaborators were inspired to remix these tracks, which produced the companion album The Heart of the Sun, released in 2008. Featured remixers, such as Cosey Fanni Tutti, Chris Carter, Stephen O'Malley, Andrew WK, and Fovea Hex' Clodagh Simonds, pushed the songs into wilder ambient shapes. Time-bending as the tracks rise, dissolve and reconfigure as if pulled by Spring tides.  
A second EP, Tall Trees, was ready in 2008, featuring Michael Tanner of Plinth and Nick Palmer of Directorsound. The title track Tall Trees emerges as a confession of love to nature itself. The stand-out track from the EP is Sing Night Swallow, representing Pantaleimon at its dream-core best, with softly swooning harmonics, and elevating lyrics that glide in and out of view.
Followers of Pantaleimon had to wait until 2013 for the fourth full studio album – The Butterfly Ate the Pearl. Andria tracked, recorded and edited all the wav.files received from her collaborators on Protools in her Butterfly Cellar Studio (basically a damp dark basement) in Hastings, and then mixed the entire album in Southern Italy at Cosabeat Studios. This release captured an expansive, more psychedelic sound palette than Pantaleimon had previously achieved. With collaborators, James Blackshaw on guitar, Robin Casinader on violin, Jay Darlington (Kula Shaker, Oasis, Magic Bus) on keyboards, Will Oldham (Bonnie Prince Billy) delivering spoken word, Steve Finnerty (Alabama 3) on electric guitar, Otto Hauser (Vetiver) on drums, Dan Price on bass and Paul Phillips on slide guitar. And with sound engineer Franco Naddei and co-producer Hugo Race (The Wreckery, Nick Cave and the Bad Seeds) Andria's core Pantaleimon sound was amplified and augmented. The result is panoramic with a song sequence that draws us further and deeper into a liminal world.
Andria produced the official Pantaleimon videos with American animator and director Eric Leiser on her video singles 'If I (Was)' and 'Ember', and with Chilean director Enrique Verdugo on 'Another World'.
Pantaleimon have performed live, most notably at Patti Smith's Meltdown, supporting Anohni and the Johnsons at the QEH; Sinsal Festival, Vigo, Spain playing on the bill with Lightening Bolt; played support for Bonnie Prince Billy at The Queens Hall in Edinburgh; supported 16 Horsepower at The Borderline, London ; toured with Current 93 playing at The Great American Music Hall in San Francisco; played headline with James Blackshaw on guitar at La Apolo, Barcelona, Spain.
_______
Besides her work as Pantaleimon, Andria has been actively involved with a number of projects, contributing to a wide variety of artists work as vocalist, performer, composer, narrator and co-writer.
Most notable contributions: music for Susan Stenger's 'Soundtrack for an Exhibition' at the Musée Art Contemporain, Lyon, in 2006 / Forma / featured on day 31/32 of the exhibition. Music for the feature film Wild Tigers I Have Known, the 2006 début film by New York director Cam Archer, produced by Gus Van Sant and officially selected for the Sundance Film Festival.  Other contributions include; provided narration for a series of short films by Cam Archer The Dead Letters featured in Cinemad; vocalist on the Dirty Three's 'Horse Stories' with Warren Ellis on the track 'Horse'; appears on X-TG Desertshore/The Final Report; between 1996 – 2009 Andria is credited on many Current 93 releases. She performs her beautiful stripped-backed version of 'Idumea' on Appalachian dulcimer for their album 'Black Ships Ate The Sky'; plays harmonium on the track Heat on Hugo Race's 'Between Hemispheres' album. There are also collaborations with the band's Strings of Consciousness on From Beyond Love and with Lüüp on Meadow Rituals.
More recently in 2021 she appears on Marc Pilley's Arksong album 'Ruin Valley Rising' and she is guest vocalist on the track 'One Kind' on Arksongs forthcoming album in 2023.
"Anne Briggs, Vashti Bunyan and Bjork's Vespertine are touchstones for an album of humble joy."
— Uncut Magazine
""The Butterfly Ate the Pearl, her fifth release, is the most psychedelic and progressive to date, blending Dead Can Dance with Black Sun Ensemble with Dzyan with Vetiver with Fern Knight with Wolff & Hennings with Nico with Deuter with, well, quite an array of influences and sounds.." - Mark Tucker